September can be a roller coaster for middle and high school girls. You're looking forward to seeing friends you haven't seen all summer, even if it means getting up waaay too early and having homework! At the same time, there can be real stress about those friendships, especially in the frenemy-filled preteen and teen years.
"Who will my friends be? Will they be mean to me or other kids? Will I be cruel to others to stay friends with the cool kids? Will I be pinched or groped in the halls? Am I cute enough? Do I have the right clothes?" Way down the list, hardly noticed by your brain: "How can I do my best in school this year?"
Believe it or not, you have more control over girls' friendship drama and bullying than you think. The key is setting your boundaries right from the start of school.
With that in mind, GirlsRespectGroups.com developed the back-to-school program "No More Mean Girls!" Starting today, for the next 13 school days, we'll post a daily tip to help get girls' friendships off to a great start. Students and teachers can download the daily tips and their color infographics, post them in the classroom, and use them to spark daily short discussions on building respectful, bully-free friendships and working groups.
Join the teachers and students in over 110 countries using GirlsRespectGroups.com's web-based "Tip-A-Day" program!
Although these tips were developed with girls in mind, boys benefit from being part of the discussion. Boys need to know how to choose respectful girls as friends and romantic partners, and girls can use the help and support of boys to become their best selves.
These "press the reset button" ground rules also work well at the start of a new semester or outside of school, for after-school teams or group activities. Use them at home, too, or any time you want a fresh start.
BONUS: Sign up for our mailing list to get our free, downloadable tip sheet, "Tips To Maximize Friendships & Minimize Friendship Drama."
Stay in touch & let us know how you're doing! Share your best ideas, photos, and videos with us on Facebook and Twitter!
And check out our "Tip-A-Day" program for bullying prevention, "20 Tips For Bully-Free Schools," on BullyingEpidemic.com, already in progress.
12 Tips To Maximize Friendships & Minimize Friendship Drama
Show Respect For Yourself
Treat yourself with respect and others will too. Be positive. Limit negative self-talk and criticism, especially when you make a mistake. Treat your body with respect – fuel it properly by eating and sleeping as well as you can. Yes, the teen years are baaaad for food and sleep, but do your best, especially when you have a stressful event coming up (tests, sports, etc).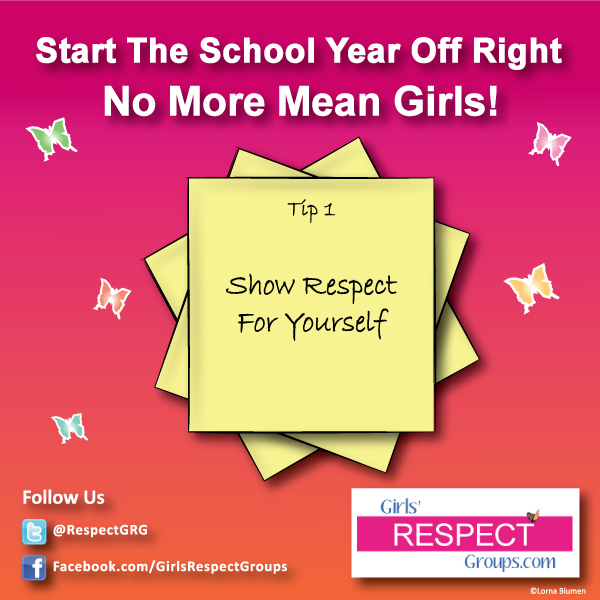 *************
Join Us Daily on GirlsRespectGroups.com and Facebook.com/GirlsRespectGroups
For Tips To Maximize Friendships & Minimize Friendship Drama