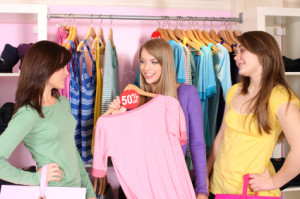 What to wear? What not to wear? Everyone wants to look their best, but how do you know what's right for you?  It's a common question for all of us, but especially tough heading back to school. It's worth a think.
Clothes certainly affect how others see you. In a world where clothing for young women is increasingly sexualized, your clothing choices could create a problem for you.
College students who saw computer-generated pictures of a 5th grade girl in sexy clothing rated her as less intelligent and low in self-respect. That's what researchers at Kenyon College in Ohio discovered. And if college students have that opinion, there's a good chance teens think the same way.
The clothes we wear reflect how we feel. But clothes may actually wear you, changing how you think about yourself. Even worse, research shows focusing too much on your appearance might hurt your report card! When you focus only on your external appearance, you limit yourself and your potential. Everyone needs to develop the gifts they've been given on the inside, too – positive attitude, strength, kindness, resilience, concern for others. Spend time working to improve your inner "you" and your outer appearance will shine!
Been in any teen clothing stores recently? It's hard not to choose overly-sexy clothing. The Kenyon researchers surveyed girls' clothing in 15 popular US stores. They found that 30% of clothing targeted to children (ages/sizes 4-14) is sexualized in some way (eg, highlighting body parts, suggestive writing, or both). And while it's exciting to suddenly be almost adult-sized, and have a whole world of fashion options open to you, it can be tricky to find the right balance of looking fashionable without pushing the limits.
It's certainly how high school student Danielle feels.[1] Even with a school uniform policy, kids push the limits: too-tight pants, hiking up their school shorts or skirts. Danielle believes it's more than legs they're showing; it's insecurities. "They're trying to get attention from boys because they're lacking confidence," Danielle says.
How come? The usual suspects: youth-geared media. Reality shows like Laguna Beach: The Real Orange County and teen-focused marketing lead the way in sexualizing young women – and men for that matter! Even if there's a difference between reality and reality shows, or perhaps because of that difference, some teens think that to make it, they've got to dress (and undress) the part.
Boys face the same pressures. Marketers do not gender-discriminate when they play to the desire for attention. Some ads suggest all a guy has to do to fit in is fit into the right clothes.
This year, US retailer JC Penney released an ad in which a young man is surrounded by friends and then sits alone in the cafeteria. A mom's voiceover says that clothes could "make or break" his school year. The retailer pulled the ad after objections from parents, who felt the ad's message suggested a kid would have no friends if he didn't have the right clothes – social bullying.
Danielle doesn't buy any of it – the ad campaigns, the imagery, the latest short-shorts. Self-respect comes from many factors, not just popularity with boys. "Your confidence comes from how well you're doing – at school, your health."
What's parents' role in preteen and teen clothing choices? Helping our kids learn how to choose appropriate clothes for school is part of the bigger process of learning to choose the right clothes for any occasion. Despite the potential for conflict, parents belong in the "war zone" of the clothing store dressing rooms with our kids, giving specific direction and helping kids learn the rules.
Are you going for lunch with your grandparents or clubbing with your friends? Dinner at a restaurant? The prom? Just as you wouldn't wear stilettos to soccer, your choice of clothing, hair style, and makeup depends on where you're going and who you're going with.
Makeup, too. The makeup that looks great on your friend may be too much for you, if your skin or hair color is different. Learn the techniques, then adjust. Choose a look that's appropriate for the situation – little or no makeup for school.
Learn how to dress for your body type. Pick styles that fit and flatter your shape. Just because it looks great on your friend, doesn't mean it's exactly right for you. Learn how to adapt a style to present yourself at your best.
Amanda Potter offers some common-sense, good-taste guidelines for girls' back-to-school outfits, emphasizing that all choices should be flattering and not revealing:
Tops. Cover cleavage, bellies and backs. A tank top underneath can come in handy to "cover" every situation.
Pants. Use the "Goldilocks Guide" – not too big and not too small; just right. No butt cleavage, no underwear showing.
Shoes. Medium height or flats.
Dresses and skirts. Hems should reach at least to your fingertips with your arms hanging down. Make sure your underwear remains covered through your full range of motion or wear bike or yoga shorts underneath.
Here's some older sister advice:
Express your personal style. Not the style advertisers push, but your own style. That's less about clothes and more about personality. Smile a lot? That's your style. People will remember the smile more than your outfit. If you don't know what your style is yet, that's the fun part. You're still growing, and you're allowed to figure out your signature look in your own time.
Next time somebody doesn't notice your haircut or clothes, cheer up! It means that your haircut or clothes aren't as important as bigger things that get you noticed – like your character, your abilities and your achievements.
Dress for success and have a confident back-to-school season!
Learn More:
L Blumen, Bullying Epidemic: Not Just Child's Play, Camberley Press, 2011
S Goodin et al, "Putting on Sexiness: A Content Analysis of the Presence of Sexualized Characteristics in Girls' Clothing," Sex Roles, 65:1-12, May 3, 2011
K Graff et al, "Too Sexualized to be Taken Seriously? Perceptions of a Girl in Childlike vs. Sexualized Clothing", Sex Roles, 66:11-12, p 764-775, Mar 2012
A Potter, "Parenting a Teenage Girl – What is Appropriate for Her to Wear," Yahoo.com, Oct 28, 2010
M Velez, "JC Penney Back-to-School Ad 'Promotes Bullying,' Parents Say," Huffington Post, Aug 14, 2013
---
[1] Not her real name
Photo credit: istockphoto.com