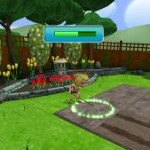 USA Today reported on a new video game that builds self-esteem in young girls. The game, targeted to girls 7-12 years old, encourages girls to run their own companies, explore new places, compete in sports, & build things. It's based on the book, The Daring Book For Girls by Andrea J. Buchanan & Miriam Peskowitz. Take a look at the article.
Read The Story: http://www.usatoday.com/tech/columnist/jinnygudmundsen/2010-04-22-daring-girls_N.htm
We Want To Hear From You! What do you think? Is it a welcome break from video carjackings & killings? Do you think it encourages girls to practice needed skills? How can we translate that into self-respect and self-confidence in real life?
Photo credit: USAToday.com