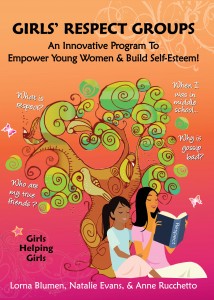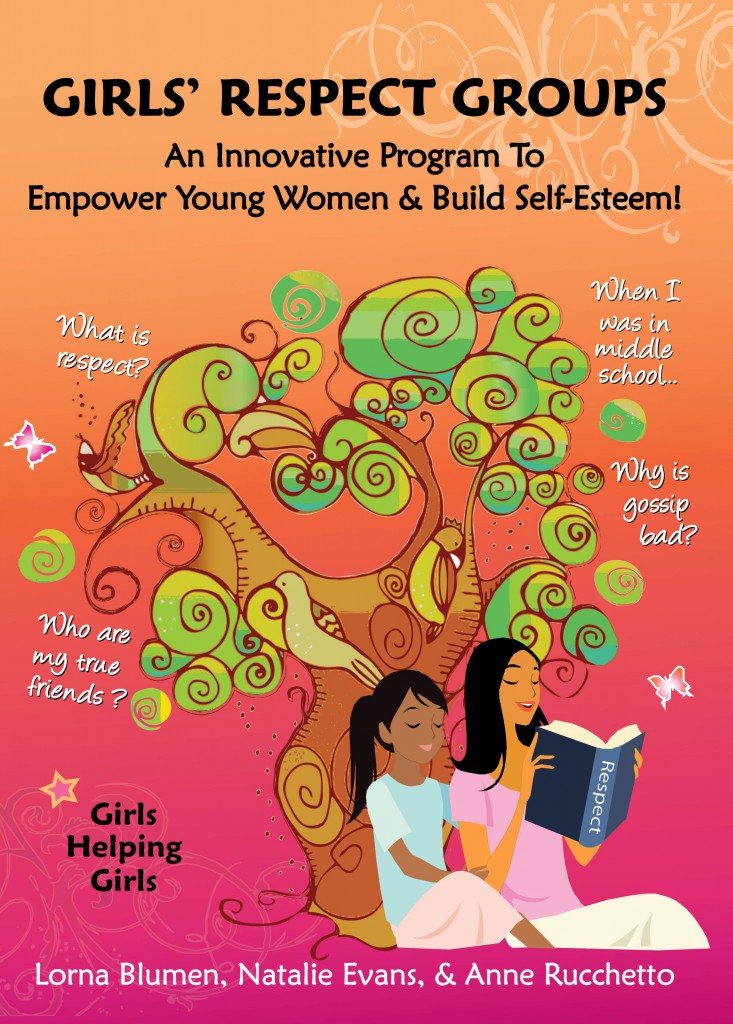 Looking for a teen great volunteer opportunity? GRG wants you!! The heart and soul of Girls' Respect Groups are our wonderful teen leaders. Your kind heart, life experience, and leadership skills can make a big difference to middle school girls. Sharing your experience with preteens, "What I wish I'd known in 6th grade", you can really help them through those tough years of middle school frenemies. Preteen girls want so much to learn from you and be like you, and you have so much valuable experience to share. You can do this job better than anyone else! How often do teens get offered a job because they're the most qualified?
That's what's unique about GRG: GRG is really run by our teen leaders. The strong connection that builds between our high school leaders and the middle school participants is a win-win for both sets of young women. Middle school girls are so enthusiastic about learning from teen girls that they admire. Our teen leaders have recent, relevant experience about surviving and thriving through the preteen and teen years. GRG connects these two groups of young women in a comfortable, supportive environment, backed by GRG Adult Advisors.
Teen leaders have deep understanding and empathy because they've just lived through the middle school experience. It's an exciting and inspiring opportunity for high school leaders to be an anchoring, supportive influence on middle school girls. For modeling and teaching girl power and respect for self and others, the GRG motto of "Girls Helping Girls", is the best!
Wondering how to get started? Here's the overview – the Who, What, When, Where & Why!
The Girls' Respect Groups Teen Leadership Training Program is a 10-12 week program dedicated to turning our kind-hearted, enthusiastic volunteers into capable, confident GRG Teen Leaders.
WHO: People
Volunteers wanting to become GRG Teen Leaders. Female students, grades 10-11, ages 16-17. Grade 10 is the optimal year to train new GRG leaders. Grade 9s need time to settle into high school. Grade 12s are often too busy to lead the GRG Middle School Program, but our experienced Grade 12 GRG leaders help train new leaders.
1 or 2 Adult Advisor(s) To The GRG Leaders. You can run with 1 adult, but 2 Adult Advisors share the work and make it much easier. One adult must be a teacher from the high school attended by (some or all of) the teen leaders. The other adult can be another teacher, a parent, or a community leader.
2 GRG Teen Leaders. Once you have an active GRG Teen Leadership Training Program, the experienced GRG teen leaders often do most of the new leader training with help from adults.
WHAT: Program Description
Group Size: 6-16 teen girls. If you have more than 16, start a 2nd group. Everyone needs enough air time to speak up and practice leading the lesson plans. Choose an even number of girls, because they'll learn and lead the GRG Program in teams of 2.
Leadership Training: Content. GRG covers topics of real interest in girls' lives. Designed to help young women understand and create healthy relationships, GRG Leaders-in-Training receive in-depth training and opportunities to practice leading lesson plans from the GRG Middle School Program. Inspired by the wonderful book by Courtney Macavinta & Andrea Vander Pluym, Respect: A Girl's Guide To Getting Respect & Dealing When Your Line Is Crossed (see below), six weekly lesson plans cover:
o   What Does Respect Mean To Me?
o   Your Mind & Your Body
o   Your Media IQ
o   Friends & Family
o   Standing Up For Yourself & Others
o   Romantic Relationships
Leadership Training: Facilitation Skills. The remaining 4-6 weeks of GRG Leadership Training focus on developing facilitation skills. Building on their life experience and empathy, GRG Teen Leaders get close mentoring in leading teen groups, including how to handle difficult questions, disagreements, or items needing immediate adult support and intervention. Paired with another GRG Leader-in-Training, all teams practice leading 90-min GRG middle school lesson plans with the other leaders-in-training as their audience. Teen leaders receive detailed, 360o feedback and coaching, as both leaders and participants.
Training Materials: Agenda, Books & Snacks!
o   Training Agenda: A 10-week training agenda, complete with reading assignments and leadership practice schedules can be downloaded from the bonus materials on the GirlsRespectGroups.com website. Sign up on the home page to access the agenda and other program materials.
o   Book: Girls' Respect Groups: An Innovative Program To Empower Young Women & Build Self-Esteem!by Lorna Blumen, Anne Rucchetto & Natalie Evans (Camberley Press 2009). Natalie & Anne were high school students when they co-authored this book! You'll need 1 copy for each Teen Leader & Adult Advisor. Available on Amazon, Barnes & Noble, Chapters (Canada), bookstores, and the Ingram Catalogue (for schools & libraries).
This book contains the complete curriculum guide, and we DO mean complete! The GRG book walks you through all 6 weeks of the actual lesson plans your Teen Leaders will be using when they lead the GRG Middle School programs, with step-by-step instructions. You'll get:
Icebreakers to start each week
Numbered activities with suggested times and total elapsed time to help you stay on time
Bullet point discussion guides for leading each activity
Facilitation tips for creating energetic discussions
For each activity, a complete list of all materials needed and the related reading assignment.
At the end of each week's plan, all group handouts are organized, with next week's reading assignment
Weekly evaluation questionnaires so trainers get immediate feedback on the group's progress
o   Book: Respect: A Girl's Guide To Getting Respect & Dealing When Your Line Is Crossed, by Courtney Macavinta & Andrea Vander Pluym (Free Spirit Publishing, 2005). You'll need 1 copy for each Teen Leader, Middle School Participant, & Adult Advisor. The GRG Program was inspired by and created around this unique book. It contains the key reading assignments for both the GRG teen leaders and the GRG middle school participants. Available on Amazon, Barnes & Noble, Chapters (Canada), bookstores, the Ingram Catalogue (ordering for schools & libraries).
o   Additional Program Materials. We make it easy for you to get started quickly. We've created all the paperwork so you won't have to. All the training materials, week-by-week training agenda, weekly self- and peer-evaluation forms for participants (in their roles as both leaders and participants), and all handouts are either in the GRG book or downloadable from our GirlsRespectGroups.com website. We don't charge extra for materials. Sign up on the home page to access these program materials.
o   A Healthy Snack should be provided at each session. Learning takes a well-fed brain and a healthy snack is part of respect – respect for our bodies!
WHEN:
GRG Leadership training sessions typically have weekly meetings, 1½ – 2 hours, for 10-12 weeks. The GRG program is flexible. Like learning any new skill, GRG Teen Leaders need enough hours of instruction plus enough hours of practice-leading the GRG curriculum to become comfortable, capable leaders. They will be leading complex and sensitive discussions between girls in friendship and conflict. Even though there will always be an adult in the room with the GRG Teen Leaders and the middle school participants, it's the teen leaders running the show.
How long the training takes depends on the length of your weekly training sessions (60, 90, or 120 min) AND the maturity and life experience of your girls. Ten weeks is the minimum – 6 weeks reviewing and practice-leading the 6 weeks of the GRG Middle School Curriculum and 4 weeks learning and practicing facilitation skills and how to handle "sticky situations." You'll know when your leaders are ready.
WHEN (Part 2):
Many schools start GRG Leadership Training in September or early October, once students have settled in to their school routine. Whenever your school starts its after-school activities and clubs, that's when to start. GRG Leaders-in-training will spend the fall term meeting weekly, learning to be capable GRG Teen Leaders. They'll be ready to run the program for middle school girls starting in January or February.
WHERE:
GRG Leadership Training is typically run as an after school program or club. It can also be run at a community center or someone's home. There's not enough time for a full training session at lunch on school days, but lunchtime is great for casual Q&A sessions between experienced and new GRG Teen leaders. "How'd you handle it when…?" "What should I do if someone asks me..?"
WHY:
GRG Teen Leaders have kind hearts. Everyone signs up to be a GRG Teen Leader because they want to lend a helping hand to middle school girls. What they aren't expecting is how much they'll learn about themselves! This is one of GRG's many extra benefits.
Another unexpected benefit is the huge boost to self-esteem that these capable young women get when they see their competence build weekly and notice how respected and admired they are by the middle school girls, their peers in training, and the adults anchoring the program!
Finally, GRG Teen Leaders earn community service hours once they complete their training & start leading the GRG middle school program.
Feel Free To Reach Out To Us With Questions & Ideas
As You Start Your Own
GRG Teen Leadership Training Program!
For those of you already running a GRG Teen Leadership Program,
send us your best tips and stories and we'll post them for all to learn
Girls Helping Girls!